Details:
Ambient Reverb plugin acts on the principle of high-quality algorithmic reverb with the calculation of sufficiently dense in time sound reflections, which allows to obtain realistic reverb without granulation effect.
It is intended primarily for working with sound material in the ambient genre, although it can be successfully applied to other musical styles and directions. A distinctive feature of the plugin is a wide range of reverberation time (up to 100 seconds), which allows you to get different types of reverb in nature, as well as the ability to literally freeze sounds, while receiving interesting sound pads, like Frippertronics. The reverb allows you to get a natural stereo reverb in True Stereo mode, which takes into account the location of the sound sources in space, according to which a reverb signal is formed.
Features:
High quality reverb algorithm.
Low CPU usage.
64 bit sound processing (double precision).
True Stereo Mode.
Freeze mode with the ability to block input.
Wide range of decay time 0.1..100 s.
Two band parametric equalizer.
Meters and controls of input/output levels.
35 factory presets.
Functions for working with presets and banks.
Help manual.
Stand alone version.
Bonus 👍🏻: Activation on three devices for one license.
Requirements:
Windows 7..10.
DAW with support for VST plugins.
Default Web Browser.
This is a digital download product only, not a physical version.
---
Screenshort: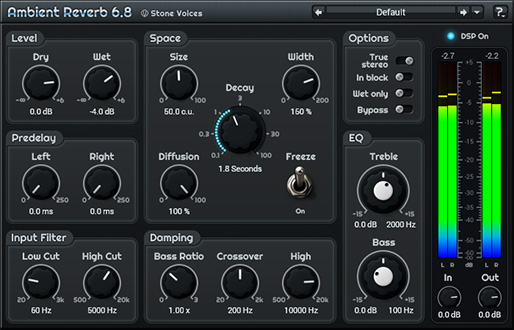 Ambient Reverb 6.8.
---
Links:
30 days trial: VST2, VST3 and stand alone version, 32/64-bit
Download last version of Ambient Reverb 6.8 (20.2 MB). 

Download the old version of Ambient Reverb 5.7,
which works on older versions of Windows (XP, Vista, 7), (12.3 MB). 

Discussion on kvraudio.com